[prisna-google-website-translator]
In Part 2 of this series I discussed my new job at the Universalmuseum Joanneum and the challenges we face with the purchase and renewal process of our membership program. This following last part outlines solutions and strategies to overcome those challenges.
Automation – full throttle ahead!
For the past 18 months I've been working on establishing a marketing automation platform in order to properly cater to the needs of new leads and existing card holders. Our currently underutilized online forms to order the Joanneumskarte will be replaced with new forms that integrate with our CRM. At the same time, my co-worker established a new module, that enables us to quickly issue and print cards from within our CRM. Now finally all our data is in one place – and we love it!
The new form landing pages are optimized for user experience and will allow us to offer payment and discounts online. Going forward, each company our sales person contracts with receives their individual online form for their employees. Employees can purchase the card only via the dedicated form, automatically associating them with the sales campaign and freeing up our resources at the museum front desk – not to mention our own, now that the customers are doing the data entry for us. It goes without saying that this will also improve data quality.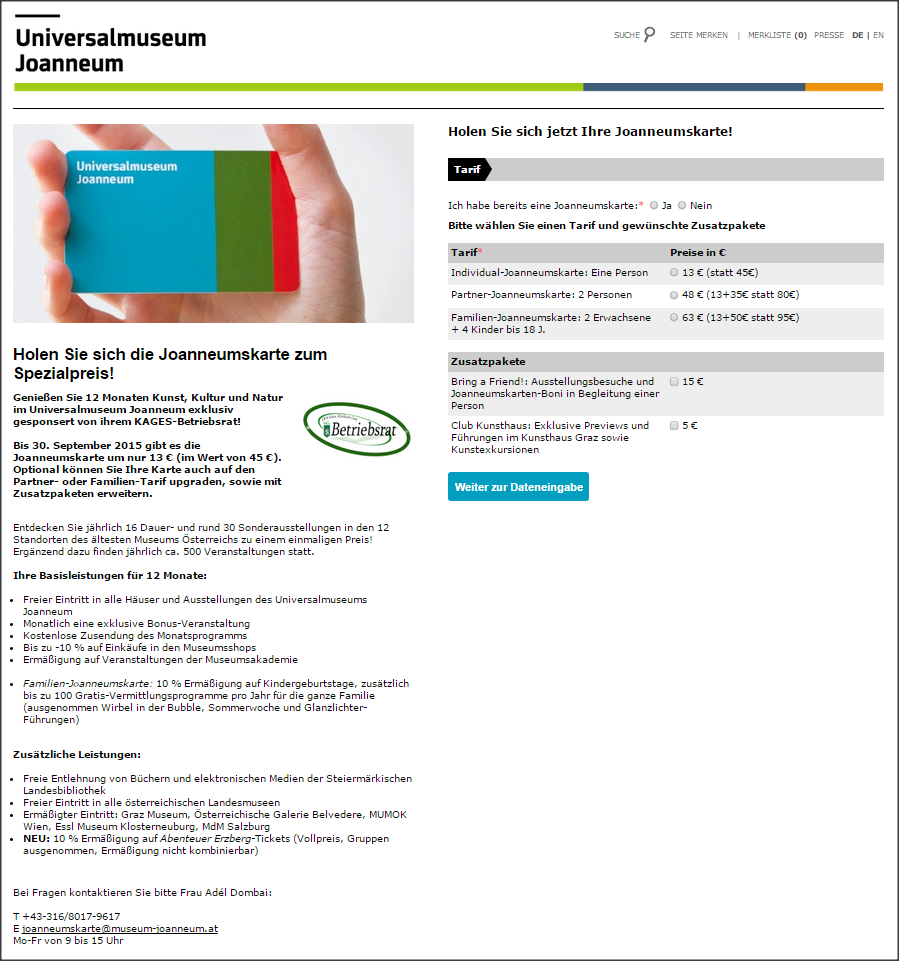 The renewal process will be automated as well. In the near future we will be sending an email with a link to a personalized landing page 30 days before the card expires. The prefilled form simplifies the renewal process for our existing customers who can now pay via online banking and immediately receive a PDF invoice. People who don't renew will automatically be sent a reminder 30 days after their card expired. If we don't have an email on file, we send the contact data to a print shop on a monthly basis who then sends out the renewal letters for us.
We also have come to understand that our card holders from sales campaigns have usually less knowledge of our services and activities than people, who opt to purchase the Joanneumskarte organically. Based on their origin, we will send an email drip campaign to every new card holder. Sales customers receive messages detailing our museum sites and exhibits, whereas organic customers receive more detailed information on the services the Joanneumskarte provides, personalized through dynamic content according to their subscription level.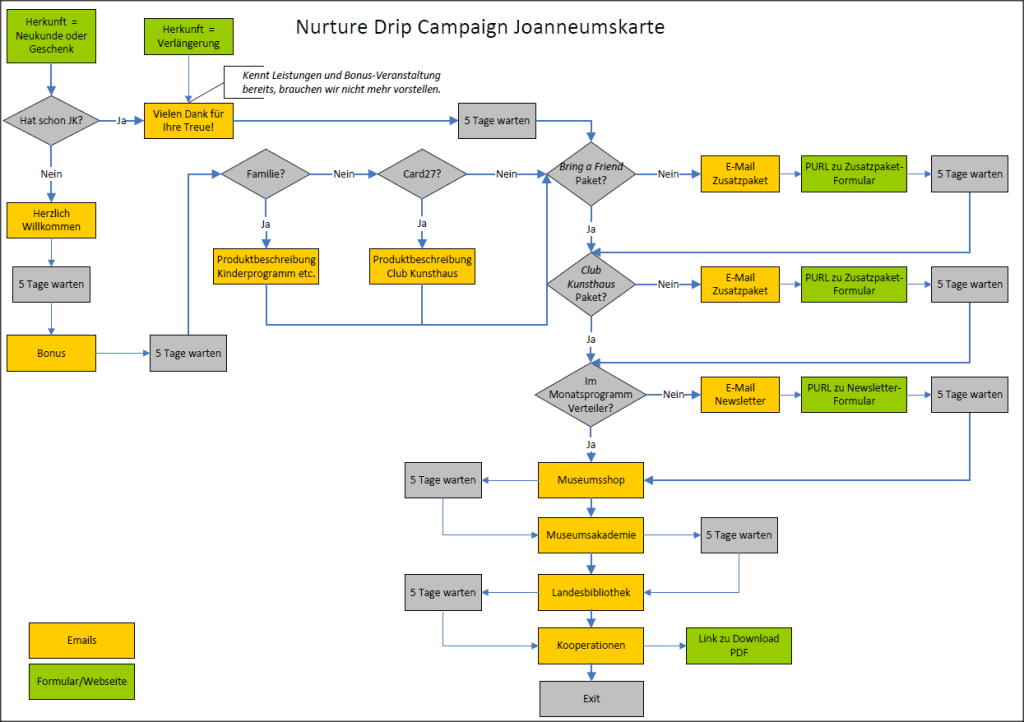 We also purchased the branded domain name www.joanneumskarte.at to easily communicate our product.
That's a great start! So what's next?
This is only the beginning, there are plenty of opportunities to use the marketing automation platform for other purposes. It will probably still take another month or two until the project finally wraps and we can launch the entire new system. We're all looking forward to that day 🙂
As of June 1st, I switched to our marketing department and I'm now responsible for the strategic development of all digital communication and digital media. My new job provides the opportunity to extend my knowledge to our website, blog and social media. My main focus will now be analyzing and optimizing the website for user behavior and search, create an inventory and evaluate the content of our website to fill the gaps for our online visitors, create new landing pages and email campaigns in collaboration with marketing, intertwine our blog, website and social media – the list goes on and on.
To help with that neverending list of tasks, I'm truly fortunate and grateful that shortly after I moved back from the US, the University of Applied Sciences in Graz decided it might be a good idea to launch a new master's program for Content Strategy. I read the curriculum, jumped for joy and submitted my resume and portfolio within a week. Shortly after I was invited to an interview and the program kicked off last October with me being one of the 24 lucky students of the first exclusive Content Strategy college degree in the world.
Content Marketing is not Content Strategy
What I've learned and implemented so far (and what I discussed in part 1 and part 2 of this series) is considered Content Marketing. Robert Rose from the Content Marketing Institute discussed the differences between Content Marketing and Content Strategy in his article "How Content Strategy and Content Marketing Are Separate But Connected":
"In its core, content marketing is a marketing strategy – an approach that uses content to deepen our relationship with customers."
Whereas Rahel Anne Bailie (who happens to be one of our instructors) defines Content Strategy in her book "The Language of Content Strategy" as:
"The analysis and planning to develop a repeatable system that governs the management of content throughout the entire content lifecycle."
I personally explain Content Strategy as the strategic development of a company's online communication in all online media. So far, that seems to provide some sort of idea for most people, though I'm fully aware that I'm just scratching the surface in order to help people understand what it is I do.
Rose goes on to explain that the content marketer addresses the "whys," the content strategist addresses the "hows," and together they work out the "whats" and "wheres."
So what does that mean for my context?
It means getting to understand our current ways of content creation and marketing and help bringing the two together. It means developing a proper training and workflow for our online writers so they know how to submit data to our CMS and who to turn to for help. To make them understand all the moving parts and that changing something on the website may also impact our print communication. Make a case to upper management that we need to solidify online content creation as part of the job description for our employees so they bring the necessary commitment to the table.
That our social media team creates content for our blog and then refers to it on Facebook, versus creating content for Facebook only. That we roll our blog from a separate domain into our website to benefit from the traffic. That we run user experience testing to improve user behavior on our website. That we analyze the website for missing content and metadata and improve existing content. That our marketing department focuses their communication on including our online assets in print from the moment of concept inception. That…
In short – I got my work cut out for me. But I know I can't do it alone, I need to bring as many people to jump into the same boat with me as possible. As Kristina Halvorson said in "Content Strategy for the Web", as content strategist you need to become an advocate for digital thinking in your company. And the best way to do that is to just get started and do it. (Note to myself: don't let yourself get overwhelmed and take one step at a time. After all, Rome wasn't built in a day.)